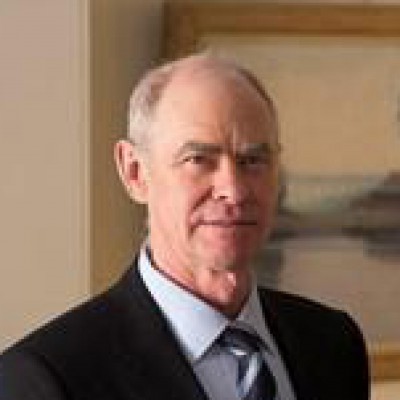 Alan Klinkhoff
Galerie Alan Klinkhoff
A speech from Mr. Klinkhoff given at There is ART in ARThritis exhibition, April 16, 2015, Jesuit Hall, Loyola College, Concordia
I come to this stage with a link. My sister, Alice Klinkhoff, is the director of the Mary Pack Arthritis Centre in Vancouver. I also come to this stage as a man who has spent the last 40 years in the field of art and money.
The narrative in my particular world that relates to what I see on the walls here would be the likes of iconic figures of Fernand Leduc, Guido Molinari and Marcel Barbeau, and internationally, Morris Louis and Josef Albers. I was just involved in the sale of a Josef Albers; it achieved a price of just under $2 million! George Russell is a contemporary of these important figures and of course we all come to our fields with ancestors. We take a little bit from this and we add to it. He looks to his mentors, his peers; and with each work he has a twist, that is absolutely recognizable as that of George Russell, artist. When we, myself and art consultant, Linda Graif, went to his home I couldn't help but tell myself, that this is the finest artist I have never heard of in my market place!
George sacrificed what could have been a career of perhaps tremendous affluence. It would have been an honour for me to have gotten together with him perhaps 40 years ago. We could have had some fun. He instead dedicated his artistic career to teaching, to the benefit of decades of students, a very noble contribution, foregoing the potential for public recognition and great financial reward. I cannot help but say that it is that same spirit of generosity that we are seeing here today. George is giving his entire career without any strings attached, for sale at prices that I would say are synonymous with young artists doing their very first exhibitions. These are literally give-away prices. These are opportunities for each and every one of you to purchase an absolutely wonderful original work of art, by artist George Russell, a man with tremendous ability and integrity, and do so at the same time as making a 100% contribution to The Arthritis Society. Thank you for your enormous generosity George and we look forward to seeing who will be the next stewards of these outstanding works of art.