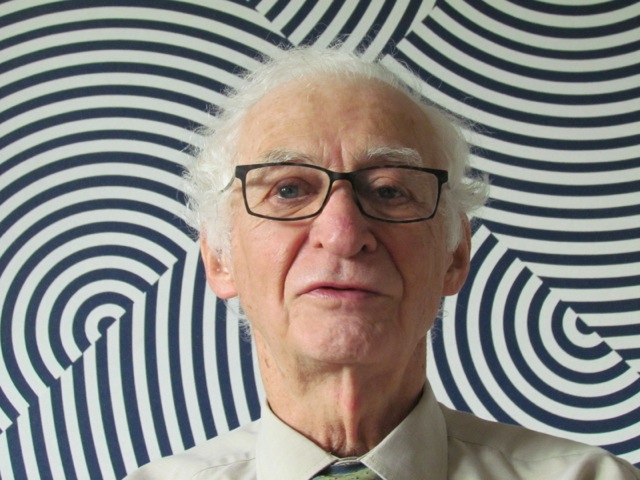 George E. Russell - Born January 23, 1933
George is a mature artist and retired art teacher. His two careers proceeded in tandem, and each influenced the other.
Originally from Saskatchewan, George's first university art course was at Emma Lake, Saskatchewan, where he was one of only two secondary students to be accepted into a program for teachers. 1969-70 brought Russell to Concordia University to undertake his Master's studies in Art Education, and this proved pivotal in both careers. In high school, he was skilled in geometry, and it was in Montreal that he was confronted by Les Plasticiens as well as New york Hard-Edge art. George's became rooted in geometric abstraction. From this point on, all his work in art and in art education, was directed towards concepts, reinforced by art movements of Conceptual Art. A publication, "LET YOUR ART COME OUT," written for his high-school students and published for teachers, explores a variety of concepts that have been crucial to the history of art. While these aspects took firm roots in Montreal, Russell has never lost contact with the vastness of prairie planes and sky with endless stars and galaxies.
All succeeding art has been produced in exploring such basic concepts as reality and illusion, picture plane, art as sign and symbol, art as object, dimensions of art, perception. He is taken by structures on both the atomic and galactic levels. His watercolor series, "Structure of the Universe", relates to his understanding of String Theory, attempts to combine Newton-Einstein physics with quantum mechanics. His interdisciplinary art practice has led him to pursue many different mediums, most notably painting and sculpture. His most recent and complex work is Kaleidoscope, a series is of large, rotating, interactive, geometric color panels, inspired by concepts of evolution, infinity, and music. Frame-by-frame film animation accompanies the Kaleidoscope series.
George has taught in several institutions in Saskatchewan and Quebec, including Aden Bowman Collegiate, Saskatoon; Chomedey Polyvalent High School, Laval, and occasional courses for the University of Saskatchewan and Concordia University. He is the former President of the Saskatchewan Society for Education through Art and the Quebec Provincial Association of Protestant Art Teachers. He has published numerous articles for both the Saskatchewan Society for Education through Art and for the Provincial Association of Art Teachers in Quebec.
Solo showings of his work have been held in the Mendel Art Gallery in Saskatoon, The Moose Jaw Museum of Art, Nassau Community College, Long Island, New York, Scarborough College, University of Toronto, German-Canadian Friendship Center, Lahr, Germany, Université du Québec, à Hull, Maison des Arts, Laval, and at Galerie Luz, Contemporary Art, Montreal.